South London Riots Start To Set Shanklin Alight!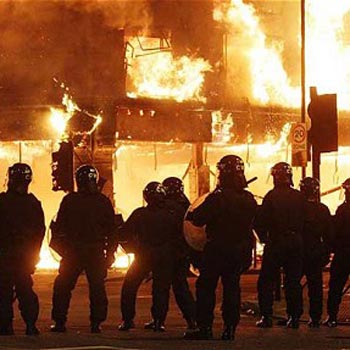 ISLE of Wight Fire and Rescue Service crews were called to Shanklin tonight (Monday) following reports of a phone box fire at Shanklin Library.
Rubbish from Monster Munch packets are believed to have been set alight by local youths, but the fire was out when fire-fighters from Shanklin, Sandown and Newport arrived shortly after 10.30pm.
They remained at the scene for around 15 minutes, to damp down the rubbish and remove it. Local residents were said to be devastated and shocked by the capabilities of the local youths in their town.
Newsagent proprietor Jill Hadgkiss, 48, was fearful of what was to come next and said; "I have no idea what is coming over the kids of this town before we know it we will have a repeat of the London riots on our hands. We must do something to stop their waywardness and disgusting behaviour as we will not tolerate 'mainland mentality' over here."
Local charity shops and budget stores of the town have been advised to take extra care and precautions to safeguard their shops from the possibilities of lootings if this behaviour persists. Volunteers of the P.D.S.A and Age Concern were today seen installing grills and other safety measures to their premises.
Shanklin Primary School is set to go ahead with its PTA meeting this evening where it has been thought many parents will push to have curfews implemented in the town to help bring back a sense of order after the shock of the fire.