Newport Couple 'Mad As Box-Of-Frogs' – Official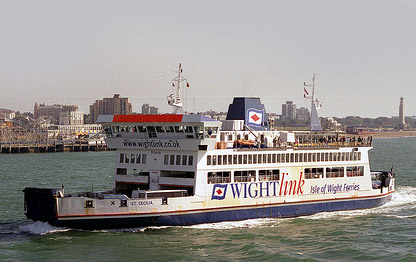 An Island couple have been sectioned under The Mental Health Act following an investigation by Police, Social Services and nosey neighbours.
Dave and Sharon Plank of Newport will be held indefinitely in a secure unit following an incident on a Wightlink ferry in August.
Concerns were raised when another passenger on the ferry, overheard the Planks talking excitedly about their trip.
Dave Plank was heard to say that he thought "Wightlink were bloody brilliant" and that "The fares are far too cheap!" The passenger was then stunned to hear Sharon Plank replying that she would "gladly go on the game in order to pay more" The passenger immediately called Police who were waiting for the deranged couple when the ferry docked.
The pair were arrested and taken into protective custody after word spread of their opinions and a mob of disgruntled passengers started building a guillotine on the jetty.
Candy Press has also learned that it was thought the couple might be released and treated in the community but that the plan was abandoned when the couple also revealed they intended to vote Conservative in next year's Council elections.
A Wightlink spokesperson refused to comment but did reveal plans for a new 2-for-1 offer for anyone travelling on a Tuesday with an arthritic donkey called Mabel.