Branson In Bid For Bembridge Airport As Virgin Takes On Wightlink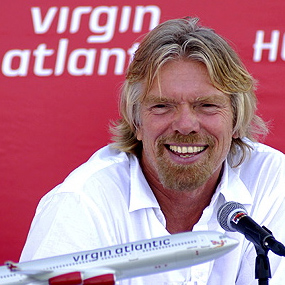 We've received reports of what could be an extraordinary development for broke and beleaguered travellers to and from the Island.
According to secret documents submitted to the Isle of Wight council, and then subsequently left on the number 4 bus, Virgin Airlines – headed by Sir Richard Branson, have made a stunning bid for Bembridge Airport.
The bid, thought to be in the region of seventeen to eighteen pounds, includes provision for an upgraded main runway and terminal building, and will create jobs for around 14 people – none of them Islanders.
There are also guarantees of a new 'hi-tech' grass runway in order to land bigger gliders on the site.  To achieve this, it's understood that Virgin will be bringing their own lawnmowers and grass rollers to the airport in order to replace the ageing cow and 'tyre on a rope' method used currently.
Even with punishing airport taxes, set up costs and company overheads, we understand that Virgin believe they can still offer a cheaper service than Red Funnel or Wightlink in providing short hops across the water. The airline is proposing to run several flights a day from Bembridge to various parts of England, and hope to encourage more Islanders to experience the mainland occasionally.
It's thought the proposals will be met with approval from residents as Mr Branson already has a rich heritage on the Island, having sat on the walls of the Bahar Tandoori in Cowes for the best part of a decade already.