Devastating Earthquake In East Cowes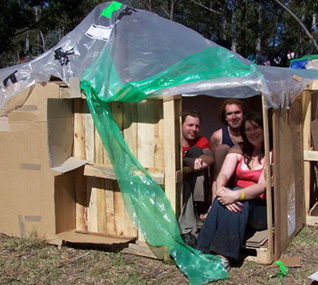 The Candy Press has received reports of a devastating earthquake in East Cowes early this morning. Residents were found wandering amongst the rubble, confused and frightened.
20 year old mother of 5, known only as Tracey, told our reporter; "I didn't know what was happening. The bed was shaking, I thought it might be my Kev getting randy but then Mercedes, Chardonnay, Apple, Prince and Kev jnr all came running in crying that their beds were shaking too. It's been so upsetting I even missed Jeremy Kyle. The house is wrecked, there's nothing left."
Emergency aid is being flown in from Afghanistan after the UN declared Monkey Town's need was greater. Makeshift camps equipped with Sky Sports and Leatherette sofas donated by Argos are helping to ease the suffering of the locals.
Argos have also confirmed they have an unlimited supply of Elizabeth Duke superior jewellery available to replace the lost 'mum' rings and dangly clown necklaces. Manager of the Carisbrooke branch of Argos confirmed the company was committed to helping it's core customer base 'wherever possible'.
Initial reports from insurance loss adjusters at the scene confirm the extent of the devastation. Mr N. O'Claim told The Candy Press; "there were no unaffected buildings; the town has been completely flattened'. He estimated total losses and rebuild costs may run as high as £9.84.