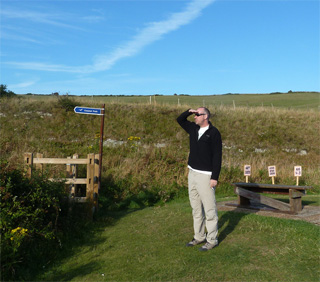 An Island boy who went missing earlier today has returned home safe and well.  Police were alerted when single mum Laura Norder aged 28 from Chale realised that her 13 year old son Ivor was not in the family home.
Laura told us; "For some reason I got up earlier than usual today. I fink it was about eleven o'clock as 'omes under the 'ammer had just finished. When I went downstairs, none of me other four kids knew where Ivor was, so I called the plod."
Ivor's father Keith, 33, immediately rushed around from his other family's house and, with the help of friends, started a search of the area.
Keith told us; "Me and the lads started to look for anyone who looked like a paedo. We found a couple and gave them a slap, but none of 'em said they had Ivor, so we let them go." During the search, Keith received the news he was longing for, that Ivor had returned home.
Laura told us, "You'll never believe this right, he only went to fackin' school, he's not been for two years though so his uniform looked sodding awful. I pissed meself when he came in!" Ivor was treated to his favourite meal, a pot noodle and turkey twizzlers.
Ivor told us, "I missed me mates so I fought I'd give school another go. It was alright but I dunno if I wanna go again although me teacher's quite fit."
Meanwhile, a 24 year old man with learning difficulties who lives in Chale with his elderly mother, remains in a critical condition in St Mary's Hospital.  A 33 year old man is helping Police with their enquiries.