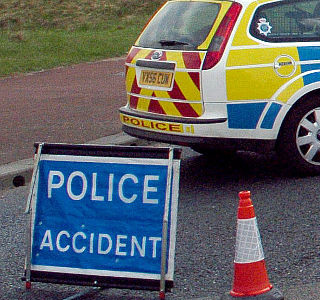 Island Police are investigating why one of their squad cars jumped a red light and ploughed into a member of the public in Shanklin on Sunday night. Several eyewitnesses reported the marked police car driving very slowly up to the lights but not seeming to pay them any attention as the two officers were checking out a young man.
The mystery man's identity remains unknown and Hampshire Constabulary are unwilling to comment. Harry Haggler 52 who was closing his shop at the time of incident told The Candy Press; "This lad strolled past, I noticed him because of his large ears. Dunno if that's what the police were looking at but they were certainly checking him out from what I could tell."
The driver of the other car was Mrs Ivy Collins 92 of Victoria Avenue Shanklin, she declined an interview from our reporters saying she was still shaken up from the accident which occurred around 11 pm. The damage to her car was said to be minimal thanks to her not being fit to drive and therefore driving ridiculously slow.
The police are trying to find out why the panda car ran a red light and the two officers in question are said to be embarrassed and have apologised to Mrs Collins, the only plus they can take is that at least this time they were actually around to see a crime take place. It's just a shame it was them committing the offence.