Island Tory Councillors To Be Replaced By Sheep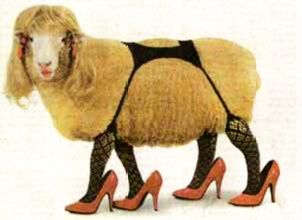 Isle Of Wight Tory Councillors will be replaced by a flock of Clun Forest sheep in time for the May 2013 elections, it has emerged.
David Pugh's title will change from "Leader of the Isle of Wight Council" to "Here Boy! Here Boy! Come By!", with the aim of speeding up Conservative block voting.
Pugh, who does not have a tail, has been buoyed by news his Wikipedia entry hasn't been vandalised in over 24 hours, and currently contains no reference to "Pughtube" and his reported hobby of swearing at women in car parks.
Operated by collars made of biomass and asphalt, it is hoped the sheep will still read council legislation as vigorously as existing Tory councillors, before giving a resounding "Bah!" to anything resembling a wind turbine.
A Tory insider said: "It has come to our attention that Islanders will pretty much vote anything in as long as it's wearing a blue rosette and fits into a flock of nondescript white things nicely. A lot of voters have always described Island Tories as a bunch of cluns. It's hoped this move proves as popular as loveable Hillsborough belittler Boris Johnson."