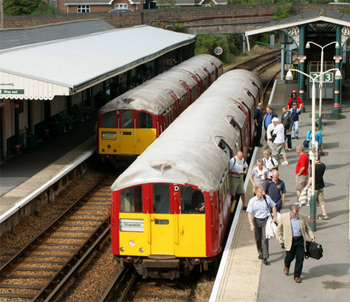 Well known local tour company Con-Tours has today submitted its tender to run the islands rail network, following the decision by central government to abandon the current tender process due to some civil servants making a cock-up on the figures.
Details leaked to The Candy Press reveal that Con-Tours have offered a one-off payment of £2.87 for the entire rail network. Their plans to increase rail usage across the Island include purchasing a fleet of very old London Underground rolling stock, reducing the service to a minimum and employing grumpy old men who are staunch RMT members, to act as ticket collectors.
The current holder of the rail franchise, FarceRail, were said to be very angry as they had been told they were shoe-in to keep the franchise for the next 34 years.
A spokesman from the company said at a press conference held this morning at Platform 8, Brading Central, that they were; "Very unhappy at the  decision, having spent countless hours and a few quid on meals at a selection of local pubs on devising our further plans to develop the rail infrastructure on the Island."
Con-Tours have indicated that they have plans to enhance the time-tables on the Island so that trains will miss every ferry sailing from the top of Ryde Pier,  allowing customers to stand in the cold and admire the new 'Welcome to Ryde Pier' signs their ticket increases paid for.