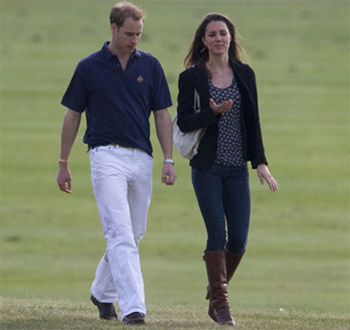 St. James's Palace have today informed us that HRH The Duke and Duchess of Cambridge, intend to "sue the bloody backsides" off  The Candy Press for publishing topless photos of  Kate whilst the couple were cockling on Shanklin beach.
William and Kate were spotted by eagle-eyed Candy Press reporter Bill 'shifty' McGovern, who just happened to be sitting in a nearby pub, by the window and with a telescopic zoom lens on his camera.
After taking the first shots and drinking his own, Bill left the pub and managed to crawl along the sand to within just a few yards of the Royals. The bodyguards were too busy arresting a man at gunpoint who they suspected might be a 'suicide deckchair-attendant bomber' to notice our intrepid reporter as he slithered closer.
With the guards otherwise engaged, Bill was able to take more snaps of the couple as well as being close enough to hear Kate teasing William over the size of his cockles which a red-faced William then tossed back into the sea, before chasing the giggling Duchess across the beach and shouting something about "Two fried-eggs".
Editors Comment: The Isle of Wight Candy Press has always stood for truth, justice and the Isle of Wight way, and as such, we can assure our readers that we will fight this un-justified attack on press freedom and we will defend to the death the right of Islanders to have access to idle tittle-tattle, tacky stories and Raspberry sauce on its '99's.