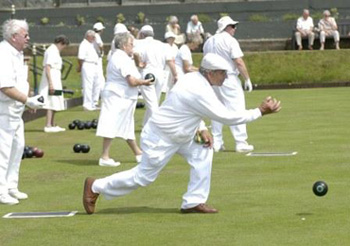 Isle of Wight MP Andrew Turner has condemned revelations that members of an Island bowls team have all failed drugs tests at a recent inter-county match.
Mr Turner, spoke to The Candy Press at Westminster this morning and told us; "After the amazing successes of our Olympic and Paralympic athletes in London, which brought joy and pride to the nation, it shames and angers me to hear this news. This is an appalling example to set the Islands youth, not least as they were stupid enough to get caught."
The sport's governing body, Bowls England, confirmed that all five members of the Isle of Wight under-eighties men's team had been found to have traces of 'performance enhancing Cocoa' in their bloodstreams and accordingly had been stripped of their winning medals.
The other finalists in the match, representing Sussex, became suspicious even before the game started in which they were thrashed 5-0. The teams Captain, Teddy 'Hot-Shot' Mills, told us that they knew something was a 'bit odd' when the Island team arrived at the match on skateboards rather than the usual Dial-a-Ride bus.
"They were all giggling for no apparent reason when they skated in.  One of them immediately lay face down on the Bowling Green and started stroking the grass and muttering something about how groovy Mother Earth was. Another was wearing a Pink Floyd T-shirt and sandals instead of the regulation whites and all of them were stuffing their faces with fun-size Mars bars"