New Wind Farm Protest Group Formed In Cowes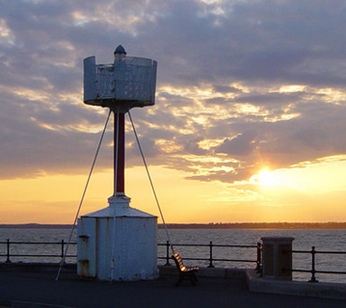 The Candy Press has been informed of a brand new anti-wind turbines action group recently formed in Cowes.
Cowes United No Turbines Society chairman Norman Imby spoke exclusively to us stating he felt compelled to act after spotting some disgraceful illegal and unlicensed turbines along Cowes seafront.
The turbines were of the smaller variety, up to 300mm tall and appear to be operated by a cooperative of the under-10s.
We arranged to meet Mr. Imby at the location he mentioned last Saturday and can confirm we witnessed these constructions first hand. The foundations of the turbines appear to be of a sand base and its is our opinion that they may be very temporary and seasonal but Norman was still outraged.
Speaking from a sun-baked Egypt Point, Mr. Imby said "Our group numbers several hundred Cowes residents. We are disgusted at these turbines ruining our delightful outlook of Fawley Power Station and Oil Terminal."
"I take a morning and afternoon constitution every day along the esplanade. I will not have my view of Fawley's delicate brown and black discharges ruined by these bloody lefty twirly things."
We asked a number of the turbine operators for comments but the few who wished to speak to us all seemed to have briefed with the same statement; "If you don't get off my sand castle, I'm going to get my dad."