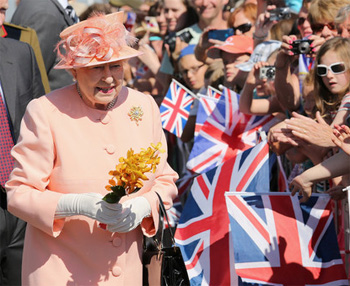 The editor of your favourite Island newspaper, The Candy Press, has today written to Buckingham Palace to offer a "Heartfelt and sincere apology to Her Majesty" for the actions of one of its Journalists.
Dave Velcro, our Bowls and Marrows correspondent, was a guest on BBC Radio 4's Today programme when he let slip that during a recent visit to the Island, Her Majesty had said to him' "Why doesn't ones Government just extradite that awful Abu Hamza to the Isle of Wight and have done with it?"
The revelation broke protocols that conversations between the Monarch, Politicians and Journalists remain private.
We understand from others who overheard the comments, that as it was nearly 10am, Dave had already drunk copious amounts of gin and paraffin, and had 'cornered' Her Majesty as soon as she alighted from The Royal Inflatable.
The inebriated Mr Velcro then proceeded to 'regale' her with stories he'd covered in the 'Dizzy world of Island Bowls and Marrow growing' as he called it.  According to witnesses, the Queen was rapidly losing the will to live and fearing her son Charles might get the throne, blurted out the first thing that popped into her head – Abu Hamza – before quickly moving on to inspect some Brownies waiting on the pavement.
Editor's comment – Needless to say, Mr Velcro is no longer employed by The Candy Press and has now taken up a consultancy post with the Isle of Wight Council. Anyone who feels they have the necessary attributes – such as sobriety – to become our new Bowls and Marrows correspondent should contact us at the usual address.