St Helens Couple In Fundraising Drive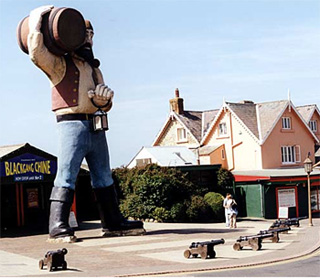 A couple from St Helen's are trying to raise money so they can take their son on a once in a lifetime trip to Blackgang Chine.
Tracey and Barry Scrote received the devastating news that their son Joshua, aged 9, has myopia and will need glasses for the rest of his life.
Tracey explained, "Joshua has been finding it hard to read and we just thought he was a thick twat, but one of the teachers suggested we took him for an eye test." It was then that they heard the tragic news that Joshua has astigmatisms in both eyes.
"We asked how long he will live but the man just shrugged his shoulders" said Tracey. "We think he may be trying to hide summat."
The couple decided to try and do something special for Joshua and came up with the idea of a trip to Blackgang Chine after a neighbour went there. They contacted the Make A Wish Foundation, but they hung up after Barry pleaded with them for over an hour on the phone.
"I've tried everything I can thing of to make some extra money" said Barry. "Scratchcards, accumulators, even the Euromillions, but nothing has worked." Staff at Iceland donated a trolley full of food for a raffle which raised £11.25. "Actually, I say donated, but my mate Alan ran out the shop with it while his wife showed the security guard her tits" explained Barry.
The cost of the trip, including return bus tickets, has been estimated at around fifty pounds. "Ideally, we would prefer it if we could take a taxi as Barry's mobility scooter is hard to get on a bus, but we're desperate to go as soon as possible as we don't know how long Joshua has left," said Tracey as she broke into tears. "Please help us make little Joshua's dreams come true!"
We're sure that kind hearted readers of The Candy Press will once again rally round and help.