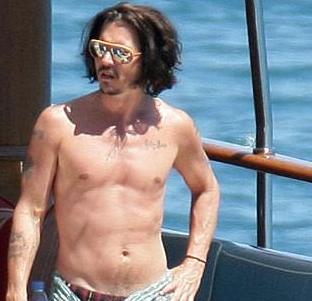 THE Island has never been a stopping place for prominent characters of the celeb world.
You're likely to spot Alan Titchmarch perusing the aisles of B&Q or David Icke giving another speech on the evolution of the royal blood line.
However neither of whom would I ask for an autograph or start babbling hysterically.
So you might understand our surprise when it was reported to us at The Candy Press that Johnny Depp himself was spotted and snapped again outside the King Spudd in Ryde.
Mr Depp is said to have traveled the Island in style, on one of our very own Southern Vectis buses, stopping at various attractions the Isle has to offer. He was spotted at Alum Bay pouring coloured sand in to an Isle of Wight shaped glass piece before trying his hand at a spot of glass blowing in Sandown.
It is reported that Johnny Depp was also on the Island for business reasons. It is claimed that he spoke with Island estate agent about the prospect of purchasing a property in Lake. He was said to have been seen perusing a block of flats close to the CO-OP Funeral Directors and is said to have put in an offer on the penthouse over- looking the whole of Lake.
However since the spotting earlier this year, Mr Depp has not been back to the Island and is said to have retracted his offer on the penthouse in Lake.
The Candy Press decided to investigate this sighting further and we were delighted when Mr Depp agreed to speak with us to clarify the speculation:
" I have never been to the Isle of Wight. I don't even know where it is. How do you even spell that? I certainly wouldn't go somewhere where I have to wait three hours for a bus".
So there you have it straight from the horses mouth. It seems that the Island is simply destined for day time T.V. hard hitters and the odd estranged writer.