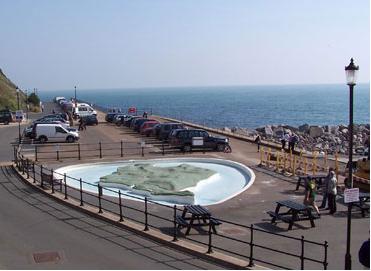 This summer Island car parks made more money than any other Island Tourist attraction making them the Islands must see location.
They dwarfed the net gross of Robin Hill, Blackgang Chine, Butterfly World and The Christmas Shop put together!
Layla Bye of the Council's Transport Department accepted the accolade at this weeks 'Tourist Trap Awards' for the South East Councils.
She attributed the success to the 'variety' and 'sheer numbers of car parks on the Island which offer value for money entertainment at competitive hourly or daily rates for prime parking in every town, seafront and general tourist parking area the Island over'.
The Candy Press would like to ask the Council whether it should concentrate a bit more on providing services and leisure resources for the public and the many holiday makers that come to the Island. Furthermore could not the money made from these car-parks help fund public services?
Layla Bye championed the free wintertime parking that some car parks enjoy, as well as after hours parking, as the Council are giving back to Island drivers from the success these attractions have enjoyed. She added that 'even Blackgang Chine charges for it's 'Isle Of Wight at night' experiences during the busy summer months. In a great deal of Island Car parks parking could be sought for free offering visitors and Islanders themselves a new dimension in viewing the Island sights and views after hours.'
When asked Layla played down all accusations that the Council were employing a 'more car parks, more fines' policy at County Hall in a ploy to raise revenues. Some critics have said it is 'an excuse and a ploy to almost print money for themselves in creating 'receipts for payment' at the Council'.
"The holiday makers come in their droves here to visit the Island to get the chance to visit and locate the various car parks" said Layla. "The visitors that come here accept that times have moved on and though we cannot provide piers, pitch and putts, paddling pools and other various Leisure attractions for them anymore we can provide the best and most varied car parks. This is so that people can see where past Island attractions once stood.
These car parks are of the highest standard and the engineering behind them is something to be marveled at in themselves. The queuing time for payment at these locations is exceptional! Quite often car owners do not need to walk any further than ten yards to make payment! Compare this to queuing and paying for the 'Toboggan Run' at Robin Hill and visitors should be aware they are on to a winner giving them ample time to explore the car parks and surrounds. Anyway who needs paddling pools when you have the beaches? You can park there too!"
A disgruntled holidaymaker whom wished not to be mentioned for fear of reprisals told The Candy Press "I just feel sorry for the young that come here now, me, I do not mind sitting in a car looking out to sea with my sandwiches and flask of coffee in one of the many car parks. However I remember being young when there were a plethora of piers, parks and assorted activities for people to enjoy.
I used to love going to Ventnor and getting my feet wet in the paddling pool with the Isle of Wight shaped land in the middle and splash about. Now it seems that the Island has turned into a mass drive and park location with a lot less to see and do compared to yesteryear.
Only last year 'Appley Pitch and Putt' was closed which I used to enjoy. I hear that they might now make way for an extended car park.
I know the Island is twinned with a lot of towns but maybe the Island as a whole should just merge with Milton Keynes and be done with it! I thought the Island was a Holiday Destination!"