Tories Plan Landmark Sell-Off To Placate Pensioners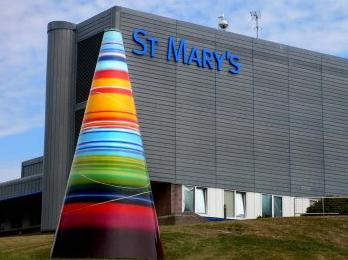 ISLE of Wight residents can sleep soundly at night with the knowledge that government policy on deficit reduction will have a reduced impact on pensioners in the region compared to elsewhere in the country.
A fire sale of Island landmarks could be the answer to fears that the Island's booming pensioner population risks becoming increasingly isolated with the potential removal of bus passes from O.A.P's.
First up and most likely to garner huge media attention is the St. Mary's Hospital cone.
Unpopular since it was first installed, the rarely rotating work of art could be listed on Wightbay.com and Ebay.co.uk as early as next weekend, with a buy it now price of £49.99 and free delivery.
It is believed the sale of such items could fund the issuing of bus passes to Island residents for years to come.
With bus fares on the Isle of Wight renowned for erring on the side of extortion, Conservative politicians have been masterminding a way to calm the growing aggression and resentment from a usually Tory friendly population as the build-up to the general election in 2015 begins amidst rumours of a bus pass cull on the British population.
Irma Caulkhead, a 78-year-old lifelong Island resident was pressured into commenting for The Candy Press "I didn't even know the cone was connected to the hospital?  I thought it was there to advertise a sex-toy mega store?"
A spokesman for the local bus service was difficult to find but an anonymous email was sent to The Candy Press on their behalf with this statement; "We firmly believe that the bus service we provide for Island residents is without a doubt the most efficient way to get around.  The standard state pension for a married person would enable them to get from Shanklin to Newport once a week, or even vice-versa, although quite why you would want to do that is not clear."
"While this would leave absolutely no money left for essentials such as rent, mortgage, food, electricity, gas or water etc we are positive this reflects decent value when coupled with the fact we guarantee to get you to your destination within 24 hours."
The Candy Press understands that other potential Island landmarks that could be up for sale include The Needles, possibly to a European road-marking company, while rumours abound that Holiday Express and Premier Inn are already circling over Carisbrooke Castle and Osborne House.
With these measures in place it certainly looks like Bus travel for pensioners on the Isle of Wight is safe for the foreseeable future.