Residents Anger At Planning Refusal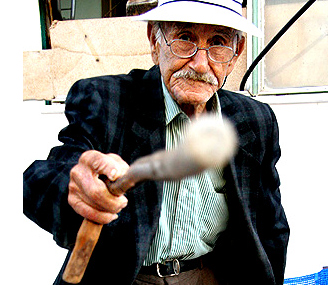 Elderly residents of Bembridge were today up in arms at the IWC's refusal to allow planning permission for an new retirement home to be built in Bembridge.
McCarthy & Stone had proposed to build a 190-cell facility in the village, but despite a prolonged and aggressive press & publicity campaign, their plans were rejected.
At least three local residents were overheard by this reporter, as they were standing outside of the WI meeting at the village hall yesterday afternoon, threatening to march on Newport and begin a campaign of 'Civil Disobedience' within the village, but only if it wasn't too cold and not on Thursdays as that's when they go to Tescos.
An undercover reporter had the chance to attend a public meeting held by the developer, but was ejected prior to being able to ask any questions as he didn't have his bus pass with him, as this was the only acceptable form of ID to gain entry to the event and ask questions.
Our investigations have found that the developer had selected the site of their proposed facility, due in part to their contract with the local Undertaker – I. Burnham – and the close proximity to the local church, as this would provide a fast and efficient 'One-Out,One-In' scheme.
The Parish Council refused to comment when our reporter found the office open. This was because they were having morning tea and biscuits and the clerk had removed her dentures so was unable to speak. Our reporter was shocked to see that the Parish Council were spending residents council tax on expensive chocolate covered Hob-nobs.