Hugh, Pugh, Barley, McGrew, Cuthbert, Dibble…and Nancy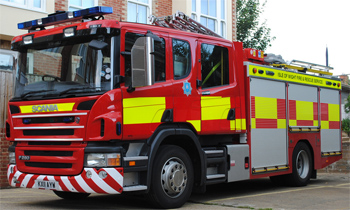 Three Isle of Wight Fire-fighters are facing disciplinary action following a fracas in London at the weekend.  The three, believed to be from the Ryde, Shanklin and Newport Brigades, were in the capital for a Ladder & Hose Safety Seminar.
The Candy Press understands the trouble started after the event, when the three men along with members of crews from Sheffield, Manchester and Glasgow, travelled to London's West-End for a night out, which included tickets for Mamma Mia.
Tempers initially flared when the Glasgow fire-fighters walked out of the show during a rendition of Knowing Me, Knowing You (Ah-ha) claiming the show was a little on the gay side for their Celtic sensibilities – or words to that effect. The other men remained and afterwards walked to nearby Old Compton Street for drinks and nibbles.
Here, in one of the many working men's clubs and bars, they came across their Glasgow counterparts again. By this time, the Scots were full of Margaritas and surrounded by local men clearly intent on a career change and seeking entry via the back-door. Soon all the fire-fighters were the centre of attention as they regaled customers with heroic tales of rescues from blazing tower-blocks, exploding gas terminals and motorway pile-ups: the Islanders however, could only talk of chip-pan fires, smouldering litter bins and retrieving a pussy caught up an old ladies tweed skirt.
At this point, it is understood one of the Island crew took exception to comments made by a member of the Sheffield brigade, questioning his 'skills and experience' and a scuffle broke out amongst the Firemen. Police were called and arrested six of the men including a local drag-artist called Vivien Von Brokenhymen who clung on to the leg of one of the Manchester Firemen in protest, screaming "He's mine bitch!"
Isle of Wight Fire chiefs are remaining tight-lipped over the men's identity, but The Candy Press understands one of the men is Mike Pinhead, who recently attended an incident involving a Cigarette and as reported by your favourite source of Island News. See Small Fire In Ryde