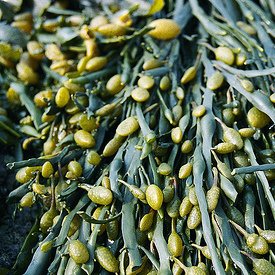 The final big event of the Islands summer season takes place this weekend, when at least 24 people are expected to gather for the 'Let's hear it for Seaweed!' festival at Yarmouth.
This popular event, now in its twelfth year, has become a firm favourite for all lovers of the slippery stuff and this year's show promises to be one to remember.
In addition to the usual stalls selling all things seaweed, this year's extravaganza will also include a live cookery demonstration by celebrity Isle of Wight chef, Eric Wilmslow.
Eric came to fame in 1952 when his recipe for seaweed jam was briefly used on the breakfast menu of a local bed-and-breakfast establishment.  Word soon spread and within days, he embarked on a whistle-stop tour of the Islands WI branches to share his secrets.
It wasn't long before Eric's cheeky grin and hot pantry action made him a big hit with the ladies! 60 years on and now bed-bound, Eric can still 'trip the light Jam-tastic!' Catch Eric from 12.30pm when carers push his bed on to the main stage.
As if that wasn't enough, straight after Eric we have more culinary magic as members of the Isle of Wight Vegetarian Society give a lecture – quite a stern one – before showing you how to use seaweed to knit your own yogurt or make tasty lunchbox treats for the kids; they'll love you for it mum!
Don't miss your chance to visit the Islands last big gig of the season, before it's time for the Island to go beddy-bye-byes for the winter.
Tickets: Adults £8.50, Children & OAP's £4.50, Wightlink & Southern Vectis Management £950pp + VAT.