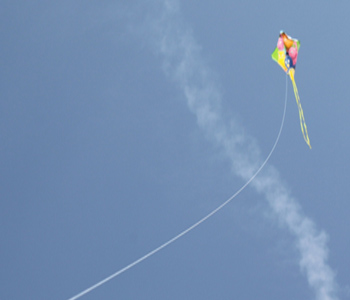 The organisers of yesterdays successful Kite Festival on Bembridge Down have blamed freak weather for ruining their day.
"We had planned to stay in bed drinking green tea, and eating falafel", said Jonny 'Two Strings' Smith, "but when we saw the weather forecast we knew we had to get out of the house and do something."
It is understood that contingency plans had been made in case the weather was "a bit warm", but yesterdays temperatures, which approached 70F, gave the organisers no choice but to continue with the event as planned.
The event had originally been arranged for earlier in the summer, but strong winds and rain gave them the perfect excuse for cancelling, and the organisers had hoped that by rescheduling to mid-September similar weather would be expected. However unseasonaly high temperatures and a good breeze led to perfect conditions for kite flying.
The Candy Press has learnt that the organisers are furious with the Meteorological Office for accurately predicting the good weather, leading to larger numbers of people attending the three hour festival than had been expected.
We can exclusively reveal that the event came within ten feet of disaster, when the last ball of string in the kite-making workshop nearly ran out.