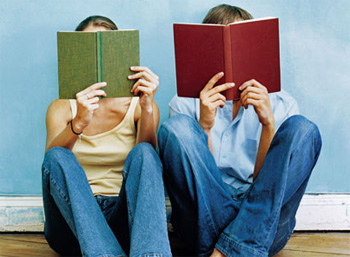 Island residents are becoming excited at the prospect of two big firsts in October. Lovers of the written word tremble in anticipation at the first literary festival at be held from 12th to the 14th. Ever an Island for equal opportunities / milking every opportunity, there is also the first illiteracy festival to be held over the same weekend.
While the literary festival has been well advertised on leaflets, posters and in bookshop windows, promoter of the illiteracy festival, Don Readwell explains advertising the illiteracy festival has been more challenging. "It's alright for them what can read, they can read the posters. Posters are no good for our festival, for people who can't read!"
He went onto explain; "it would be perfect if we could advertise in the ad breaks of Jeremy Kyle and X Factor, our entire target audience nationwide would see it then. But we just can't afford that kind of advertising. So we have an ad on the Isle of Wight radio running, and we are appealing to the readers of the most read island on-line paper, The Candy Press, to tell their non reading friends all about it."
Highlights of the illiteracy festival include food stands from providers where the written menu is unnecessary (KFC and McDonalds) and career stands by the leading employers on the Island in employing the illiterate, unhelpful or rude (Santander, Tescos and JJB Sports).
Don was keen to ensure no confusion with the Island illegitimacy festival, to be held the weekend after. "They sound quite similar, illegitimate and illiterate. But that festival is for the Bastards of the Island, mainly to be attended by Wightlink, Red Funnel, Southern Vectis and Council executives. You'll probably need to read at that one so it's best avoided."